Amazon UK halves corporation tax to £7.4m as sales soar to £7bn
Company says low profits led to tax cut, but is yet to reveal complex corporate structure that funnels revenue from retail sales via Luxembourg
Amazon UK's corporation tax bill halved to £7.4m last year despite the internet giant's retail sales soaring past £7bn.
Amazon UK Services – the company's warehouse and logistics operation that employs almost two-thirds of its 24,000 UK staff – saw its UK corporation tax bill plunge from £15.8m to £7.4m year-on-year in 2016.
The tax cut came despite turnover at the business, which handles the packing and delivery of parcels and functions such as customer service, rising from £946m to £1.46bn.
Overall, Amazon UK received a £1.3m credit from the UK authorities, which it will be able to deduct from future tax bills.
The company, which recently saw its stock market value soar to more than $500bn (£386bn), received a tax credit due to a series of deductions including £36m of share awards to managers and staff.
This saw its pre-tax profits halve from £48m in 2015 to £24m last year.
"We pay all taxes required in the UK and every country where we operate," said a spokesman for Amazon UK. "Corporation tax is based on profits, not revenues, and our profits have remained low given retail is a highly-competitive, low margin business and our continued heavy investment."
Last month, Amazon's soaring share price briefly made founder Jeff Bezos the world's richest man, just ahead of Microsoft's Bill Gates, worth £70bn.
Revenue from the company's UK retail sales are funnelled through a separate company in Luxembourg and have not been made public yet. In 2015 they topped £7bn.

Amazon Services UK makes its money by charging Amazon's retail business for delivering products, last year accounting for £1.4bn revenue.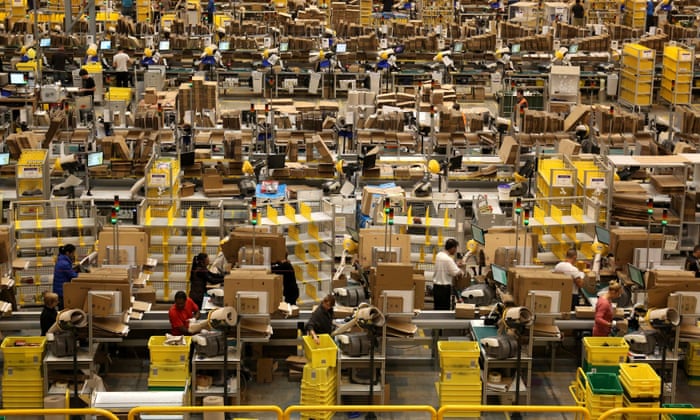 In 2015, Amazon said it would stop using controversial corporate structures that diverted sales and profits away from the UK following a clampdown by the government with the introduction of George's Osborne's diverted profits tax.

An Amazon UK spokesman said that when the figures for its Luxembourg-based business, which aggregates its European businesses – are published it will show a breakdown of UK sales revenues and the tax paid last year.

In July, Amazon announced it was to expand its UK workforce by 5,000 permanent roles this year. It is also opening new warehouses that will bring the number of fulfilment centres it has in the UK to 15.

"We've invested over £6.4bn in the UK since 2010 including opening a new head office in London and development centres in Cambridge and London this year, and creating 5,000 permanent jobs across the country in research and development, our head office, customer service and fulfilment centres, to bring our total workforce to 24,000."