2018 Winter Olympics on Wednesday: TV schedule, stream, events, athletes to watch
Mikaela Shiffrin returns to the slopes, and Team USA women's hockey tries to throw an early jab at Canada
None of us needed to wait until Valentine's Day to fall in love with all that's come from Team USA at the 2018 Winter Olympics. There's Mikaela Shiffrin, the 22-year-old skiing star who is patiently waiting her turn to win gold as high winds continue to delay alpine events. There's Red Gerard, the fiery 17-year-old snowboarding phenom. There's Chloe Kim, who became the next Shaun White of U.S. Olympics while moonlighting as a Twitter food critic. And then, of course, there's Shaun White. 
Now that Wednesday, Valentine's Day, is upon us, however, we've got you covered with everything else you can love looking forward to at the 2018 Winter Games.
First, make sure you've checked out everything you need to know about the 2018 Olympics, and then get ready for Wednesday's full slate of events with this preview of events. Wednesday's NBC coverage features another wide variety of action, with Shiffrin headlining the giant slalom runs and Team USA's women's ice hockey team looking to deal a blow to Canada, which has won four straight Olympic gold medals.
We've got you covered here with an overview of what to watch and how to watch or stream it on the sixth full day of the Winter Games, as well as a medal tracker with updates from the previous events:
Medal Tracker
Medal Tracker
Country

TOTAL

GER
5
2
2
9
NED
4
4
2
10
USA
4
1
2
7
NOR
3
5
3
11
CAN
3
4
3
10
FRA
2
1
2
5
SWE
2
1
0
3
AUT
2
0
0
2
ITA
1
1
1
3
KOR
1
0
1
2
JPN
0
2
2
4
OAR
0
1
4
5
AUS
0
1
1
2
CZE
0
1
1
2
SVK
0
1
0
1
CHN
0
1
0
1
SUI
0
1
0
1
FIN
0
0
2
2
KAZ
0
0
1
1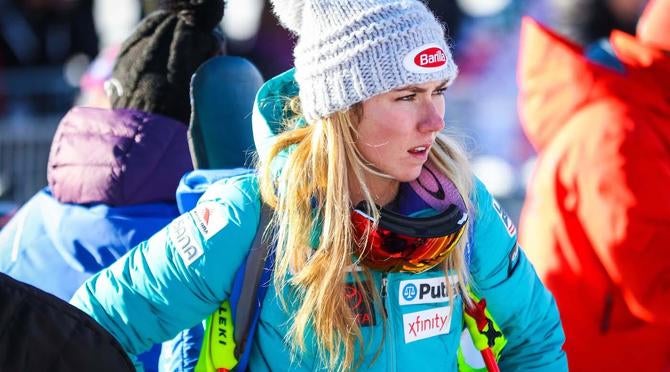 Events to watch

Women's alpine skiing (giant slalom): Team USA standout Mikaela Shiffrin will return to the slopes a night after her postponed Pyeongchang debut for the second of possibly five different appearances. She also happens to be the obvious favorite for gold after winning the giant slalom in Sochi in 2014.
When: 7:30 p.m. and 11:15 p.m. ET (live)
TV: NBC | Stream: NBCOlympics.com, fuboTV (try for free)
Figure skating (pairs' free skate) 
When: 8:30-10 p.m. ET (live)
TV: NBCSN | Stream: NBCOlympics.com, fuboTV (try for free)
Men's downhill skiing: Another event that was postponed due to gusty winds over the weekend, this could've been medal territory for Team USA's Steve Nyman before the potential front-runner suffered a pre-Olympics injury. Now, Norway's "Attacking Vikings" crew, including 2014 bronze medalist Kjetil Jansrud and 2010 silver medalist Aksel Lund Svindal, could be the favorites, though Austria's Matthias Mayer is the defending champ.
When: 9 p.m. ET (live)
TV: NBC | Stream: NBCOlympics.com, fuboTV (try for free) 
Women's ice hockey (U.S. vs. Canada): This might be the most anticipated preliminary-round hockey game of the Olympic season. In all but the 2006 Winter Games since 1998, it's been either Canada or Team USA vying for gold, so you'll have to excuse everyone for hyping this rivalry bout to the roof. The U.S. is coming off a 5-0 blowout of the Olympic Athletes from Russia.
When: 10:10 p.m.-12:30 a.m ET (live)
TV: NBCSN | Stream: NBCOlympics.com, fuboTV (try for free) 
All events
TV: The following channels will broadcast a variety of Olympics events throughout the day: NBC, NBCSN, CNBC, USA Network.
Live stream: NBCOlympics.com and the NBC Sports app will combine to present more than 1,800 hours of streaming coverage, including live streaming of all NBC network Primetime broadcasts. The NBC Sports App will present live streamed and on-demand coverage of all competition across all 15 sports and 102 medal events. You can also stream all of NBC's coverage on fuboTV (try for free). 
For a full schedule of events on Day Six, click here.
This article originally appeared in
cbssports.com
, Please read more at original source.