LOOK: Celtics' fan cam sabotaged by kid with 'Lonzo Sucks' on his stomach
And just like that, two stars were born
Every once in a while a sporting event provides a hilarious moment of weirdness from the "Fan Cam" in the arena. Wednesday night in Boston, fans were treated to one of those moments thanks to two shining stars.
The first comes in the form of a youngster in a Kyrie Irving shirsey who is just waiting for his time to shine on the big screen. He's so anxious. He can't wait. And when his moment arrives, he's ready for it.
Unfortunately, so is the camera man. 
Honestly, that is wildly impressive reaction time from the person behind the camera. You can tell he has been burned by camera flashers before, he still regularly loses sleep over it and he's not about to let it happen to him again. He's better than that now. 
Thankfully, we got a quick look at the message the young man was intent on sending: "LONZO SUCKS."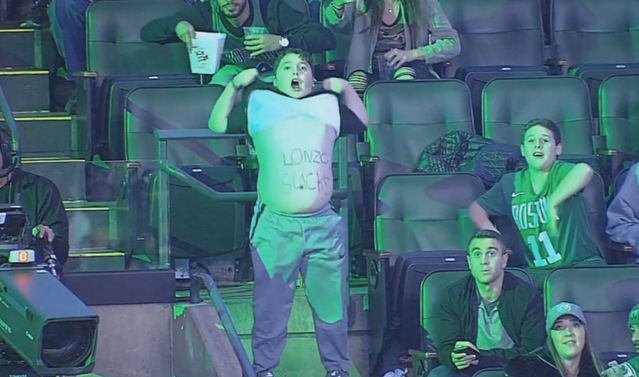 Tough break for the Lakers rookie, though he did have a bit of a rough game in Boston on Wednesday.
But the camera operator quickly noping away from the kid brought us our second star. Meet the illustrious Popcorn Guy.
This is basically like when a family on "Family Feud" screws up a category and then the opposing family immediately jumps in to steal all the points. "Lonzo Sucks" kid accidentally gave away his opportunity in the spotlight and Popcorn Guy wasted no time in seizing it with a big-time performance. That's what we call an opportunist. 
Way to go, everyone. This was very enjoyable.