Joe Root must solve team puzzle to secure lasting success for England | Vic Marks
The England captain enjoyed a successful first Test, but the long-term potential of Gary Ballance, Keaton Jennings and Liam Dawson remains untapped
It could not have gone much better for Joe Root at Lord's. Never underestimate the importance of runs for a new captain; they remove the biggest cloud facing the man in charge of a new regime, which is the struggle to justify a place in the team. An emphatic victory comes in handy as well.
Moreover, he handled his bowlers with easy authority. This was most obvious with the spinners: he tossed the ball to Liam Dawson for the 14th over of South Africa's first innings, a ploy that did not work but here was early confirmation that for Root the spinner is not the bowler of last resort.
He did something similar after tea on the fourth day. Mark Wood had just removed JP Duminy in his first over but he was not invited to continue his spell after the interval. Do not expect this to be a regular tactic of a captain eager to embrace spin bowling; bear in mind that at Lord's the ball was turning and bouncing far more than we have witnessed there for decades.
Root was flexible in the field and suitably restless in pursuit of the right combination of bowlers. It seemed as if he always had options to try rather than holes to fill. In that second innings Wood bowled just one over; Ben Stokes was only required to bowl 13 overs in the match, all of them in the first innings, and the spinners kept taking the wickets. Hence his pacemen should still be frisky at Trent Bridge.
However, Root recognises that it cannot possibly be so simple in Nottingham. The expectation is that the pitch will not deteriorate so rapidly and that South Africa, with the return of their captain, Faf du Plessis, will rediscover the discipline that has often been their hallmark. Usually they hold their catches and it would be surprising and a source of much distress in their camp if their bowlers overstepped as frequently as they did at Lord's. Sadly Kasigo Rabada, banned for one game thanks to his own exuberance, the intrusive presence of the stump mic and a blinkered adherence to the letter of the law, will not be one of those bowlers.
There are still conundrums about Root's team. It possesses a reassuring spine, starting with Alastair Cook at the top through to Root and on to the all‑rounders, Jonny Bairstow, Stokes and Moeen Ali, with plenty of experience at the bottom provided Jimmy Anderson and Stuart Broad remain fit. But there are also at least three players who have yet to establish themselves as regulars, Gary Ballance, Keaton Jennings and Dawson.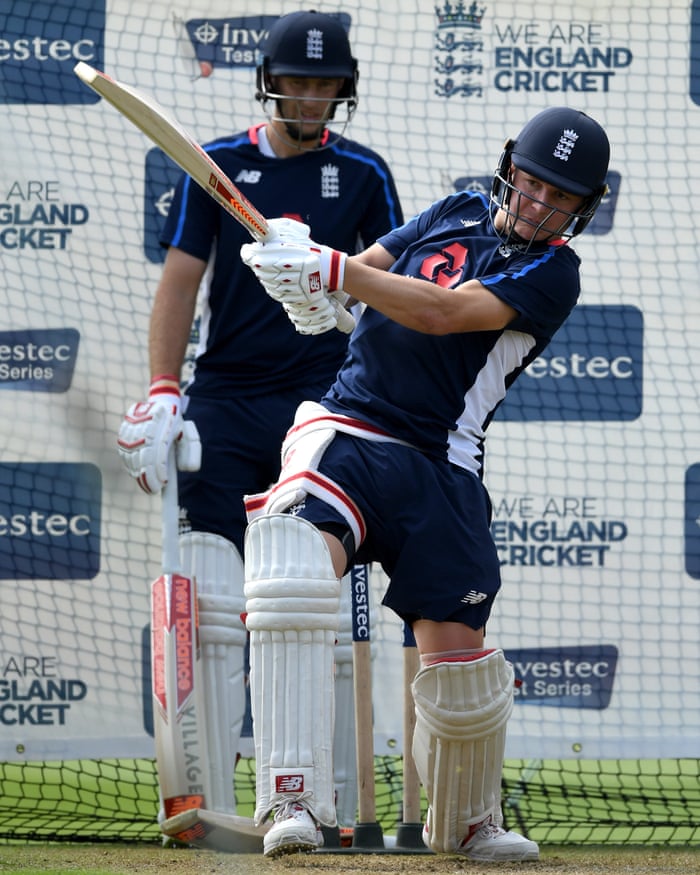 These three have common attributes. All are dependable, no-nonsense cricketers, reliable, determined and guaranteed to get stuck in whatever the situation. There is much virtue in such characteristics. But the doubts surface over whether they possess the raw ability to prevail at the highest level and we are still in the process of finding out.
Of these Ballance is the most experienced. He has played 22 Tests and he averages a highly respectable 38, though his figures are skewed by his precocious start in Test cricket in the summer of 2014 against India followed by more runs in the Caribbean in the spring of 2015. Since then it has been a struggle.
The perception has been that Ballance has been handicapped by being asked to bat at three for England, which is two places higher than he usually does for Yorkshire. There is often a fall guy in Test teams who has to adjust because of the needs of others. In the 1980s Derek Randall might find himself opening the batting or going in at three against the West Indies because there was no one else willing to do so. Randall would always do as he was asked even if he was much more likely to succeed lower in the order. Perhaps the fall guys in this era have been Moeen, who has batted everywhere (though he is now cemented at seven), and Ballance.
But then examine Ballance's figures at Test level. In the 15 Tests in which he has batted at three he averages 48.92. Put him elsewhere and he has flopped. Like it or lump it, now that Root has decided that he is going to bat at four, Ballance has to make a success at three or not at all. Currently that is the only vacancy.
At least Jennings is in a familiar position at the top of the order. Here is another rounded character (metaphorically), who may have opted for England partly because he did not rate his chances of becoming a South African Test cricketer. He squeezes the most out of his talent and was capable of posting a century on his Test debut in India just as Cook did all those years ago. Then it was soon recognised that Cook, for all the crabbiness, was the real deal. Such certainty does not yet apply to Jennings. Likewise Dawson, who according to Trevor Bayliss "has something about him", still has to prove that he is good enough in one of his disciplines to be a Test cricketer on a regular basis.
This trio is fortunate in one respect: having been selected at the start of the Test series they will be given a significant run. Their rivals have little chance to shine since there is just one round of Championship matches between now and 28 August. That is an unhappy state of affairs for the selectors (and a large chunk of punters). But it will probably be worse for them in 2020 when two T20 competitions are likely to dominate the month of June as well as July and August.