Thousands of transgender people serve in the military. The House is set to vote to deny them hormone therapy and gender reassignment surgery.
WASHINGTON ― Late Wednesday night, Republicans on the House Rules Committee quietly OK'd an amendment to the 2018 national defense authorization bill that would deny medically necessary health care to transgender people in the military.
The amendment, proposed by Rep. Vicky Hartzler (R-Mo.), would prevent transgender military personnel from getting medical treatment such as hormone therapy or gender reassignment surgery. There are as many as 6,630 transgender people in active military service, per a RAND Corp. study.
Here's the text of Hartzler's amendment: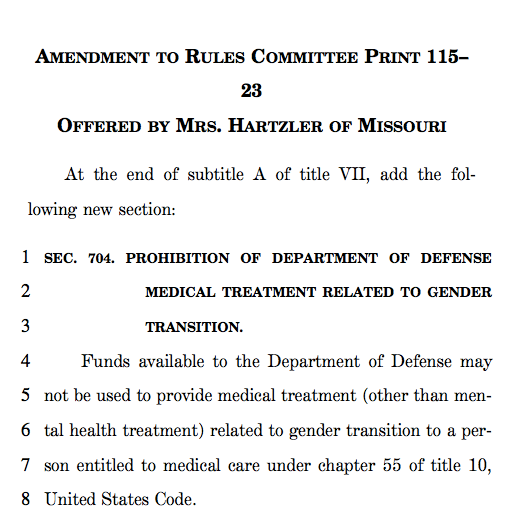 The full House will vote Thursday on whether to keep the amendment in the bill, as lawmakers plow through the 122 proposed amendments. A request for comment from Hartzler's office on the need for such an amendment was not immediately returned.
"This vile amendment is a vicious attack on service members who are sacrificing so much and putting their lives on the line for our country," said Ashley Broadway-Mack, president of the American Military Partner Association. "This legislative assault on military families absolutely must be stopped. We urge members of Congress to reject this cruel proposal."
Openly transgender people have served in the military since October 2016. The costs of providing them with gender transition-related medical care are relatively low: RAND estimates 30 to 140 people would seek new hormone treatments per year, and 25 to 130 would seek gender transition-related surgeries. 
The American Medical Association has emphasized the medical necessity of mental health care, hormone therapy and gender-transition surgery as forms of therapeutic treatment for people diagnosed with gender dysphoria, a "serious medical condition" that stems from the distress a person feels when his or her gender identity does not correspond with his or her birth sex. Not all transgender people are diagnosed with gender dysphoria; some don't experience that distress.
During the committee hearing, Rep. Jared Polis (D-Colo.) tried to strip Hartzler's amendment from the bill. Every Republican present voted no.
Those members were Reps. Pete Sessions (Texas), Tom Cole (Okla.), Rob Woodall (Ga.), Michael Burgess (Texas), Doug Collins (Ga.), Bradley Byrne (Ala.), Dan Newhouse (Wash.) and Liz Cheney (Wyo.).
Read more at huffingtonpost.com