Gabbana promised never to work with her brother again.
Take a nice, long look at Miley Cyrus' brother Braison walking in the Dolce & Gabbana fashion show in Milan on Saturday.
Chances are you will never see him on the designers' runway again.
Cyrus shared an image of her younger brother modeling in the show on Instagram, along with an effusive caption congratulating him for making his first ever runway appearance. At the tail end of the message, she noted that although she "STRONGLY" disagrees with the designers' political stances, she supports their efforts to "celebrate young artists [and] give them the platform to shine their light for all to see." 
Apparently, Stefano Gabbana only managed to see that one short line in the lengthy post, in which Cyrus may be referencing Gabbana's infamous and ongoing support of first lady Melania Trump. She could also be referencing his partner and ex-boyfriend Domenico Dolce's controversial comments about children born through IVF being "synthetic." "The only family is the traditional one," he said in a joint interview. 
Maybe she's referring to both. Either way, Gabbana called Cyrus' words "ignorant" in an Instagram reply, writing, "For your stupid comment never more work with him."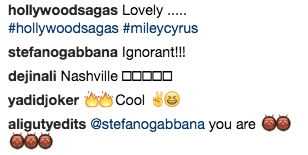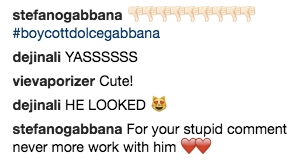 Considering Cyrus merely stated she disagrees with the designers and complimented their brand in spite of it, refusing to work with her brother again seems pretty drastic.
But it's also not surprising, as Gabbana reacts strongly to criticism. After all, it was just last week the brand debuted its defiant $245 "Boycott Dolce & Gabbana" T-shirts in response to criticism they've received for supporting Trump. And before that, Gabbana told some of his followers to "go to hell" after they spoke out against his fawning photos of the first lady wearing his clothing. 
As for Braison Cyrus and his burgeoning modeling career, we're going to guess he's not losing much sleep over the whole thing. Miley Cyrus wrote in her Instagram that "it's never been my little brother's dream to be a model as HE is one of the most talented musicians my ears have ever been given the gift of hearing." 
BRB, Googling Braison Cyrus for the rest of the day. 
Read more at huffingtonpost.com