Trump Cozies Up To Duterte, Ignores Human Rights Questions
He also laughed when the Philippine leader referred to journalists as "spies."
President Donald Trump used a series of public appearances in the Philippines on Monday to heap praise upon the island nation's strongman president, Rodrigo Duterte, and shut down reporters who tried to press the leaders on the country's human rights abuses.
Trump, who spoke during the U.S.'s fifth summit with the Association of Southeast Asian Nations in Manila, began his remarks by commending Duterte for his chairmanship of the group.
He then focused his remarks on the previous evening's entertainment ― none other than Duterte himself. The Philippine leader sang a Filipino love song "upon the orders of the commander-in-chief of the United States."
"The show last night, the talent at that show ― I assume mostly from the Philippines ― was fantastic," Trump continued. "And you were fantastic, also, very much, from the Philippines."
Trump didn't take questions from journalists following his remarks, but during a bilateral meeting he referred to his trip as "very successful" and lauded his "great relationship" with Duterte. When reporters tried to press the leaders on whether the subject of human rights came up, Duterte― who has been accused of crimes against humanity― shot them down. 
"Whoa, whoa," he said. "This not a press statement. This is the bilateral meeting."
He added that, "we will be discussing matters that are of interest to both the Philippines" and, referring to the reporters, "with you around, guys, you are the spies."
Trump laughed in response. In a sharp break from his predecessors, he had also last week declined to take questions from reporters during a joint news conference with Chinese President Xi Jinping― a decision that was made, the White House said, "at the Chinese insistence."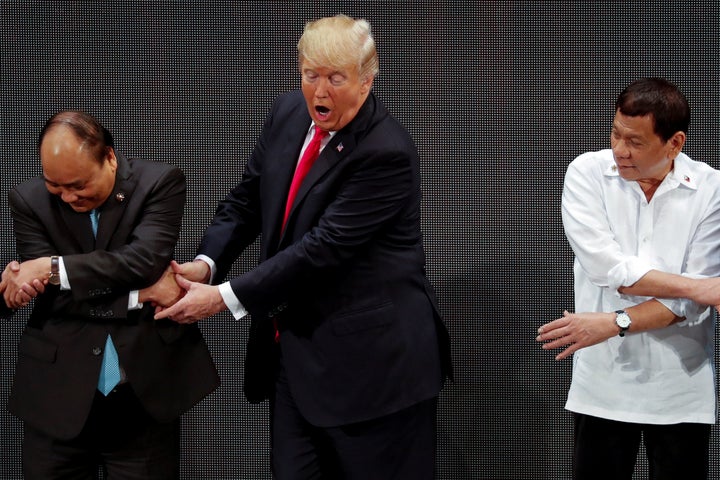 White House press secretary Sarah Huckabee Sanders told reporters on Monday that human rights "briefly came up in the context of the Philippines' fight against illegal drugs." Duterte's spokesperson denied that the issue was raised. Last week, he had also said that he planned to tell Trump to "lay off" if the president were to press him on the subject. 
Duterte is accused of ordering thousands of extrajudicial killings, both as president and as the mayor of the city of Davao, as part of his war on drugs. Trump told him he was doing an "unbelievable job on the drug problem" during a call in April.
Former president Barack Obama had planned to address the violence during a planned meeting last year during his last months in office, but after Duterte called him a "son of a whore," the event was called off.